News

despite thousands of violation notices filed with the city last year, health officials warn there are still plenty of places where decibels top 85, a level that can cause hearing damage with prolonged exposure. For two decades, the 57-year-old … Barbara Brown puts up with massive jets from John F
Link:
Noise is No. 1 quality-of-life complaint in NYC – seattlepi.com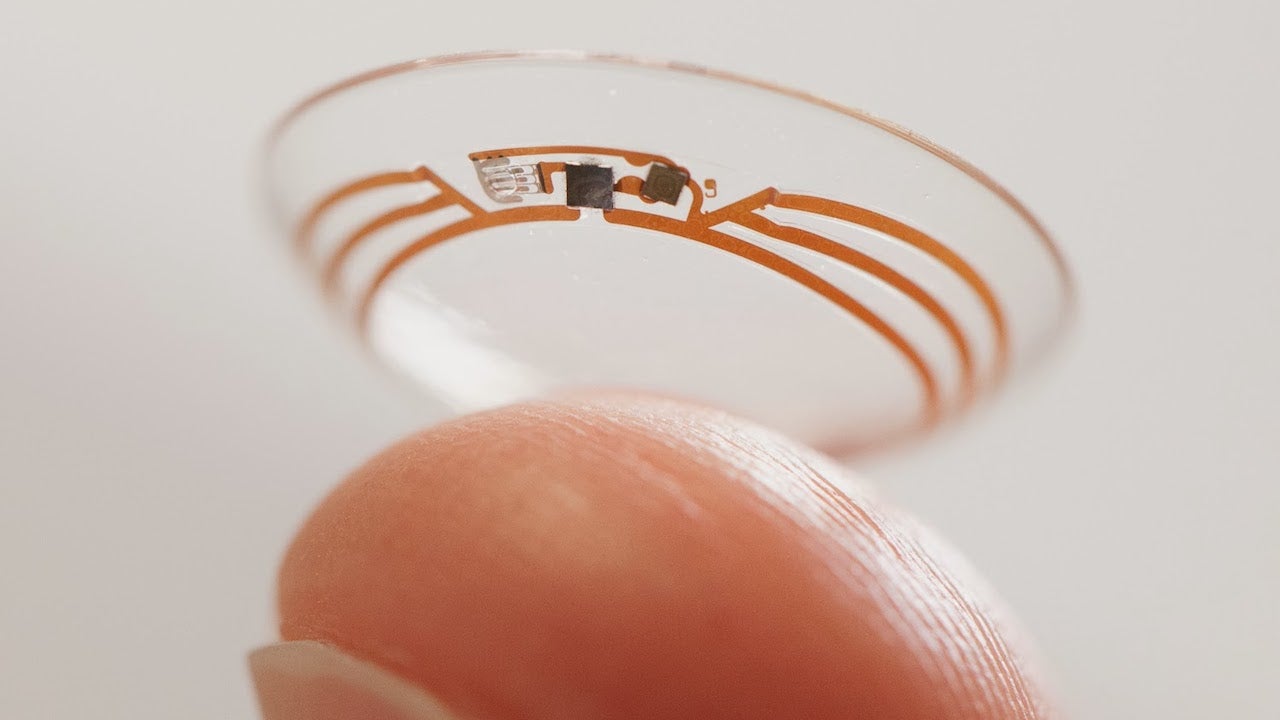 A late-breaking surprise just came out of the Google camp with the revelation that it's going to start making smart contact lenses. As in contact lenses with integrated sensors and circuitry. Yep, it's that time in the future. But it might not be what you're hoping for. It isn't the next generation of heads-up display (a Google Glass people would willingly wear in public), rather, it's for sensing.
Many people with diabetes have to vigilantly monitor their blood-glucose levels or they risk major problems like passing out, and in extreme cases, coma or even death. Despite that, pricking your finger a million times a day isn't anybody's picture of a good time, and this often results in people checking their glucose levels less often than they should, which is obviously dangerous because virtually anything (eating, exercise, sweating) can cause a sudden spike or dip.
Continue reading here:
Google Is Making Smart Contact Lenses for Better Health Monitoring

Asian-Americans tend to be skinnier than white, black or Hispanic Americans, but that doesn't necessarily equal healthy, new national data reminds. People of Asian descent still struggle with health issues associated with being overweight, like hypertension and high cholesterol.
The report found that Asian-Americans do tend to be thin: About 38 percent of Americans of Asian descent are overweight, meaning they have a BMI, or body mass index, higher than 25. Compare that to 66 percent of white Americans, 76 percent of black Americans and nearly 80 percent of Hispanic Americans. (Body mass index is a widely used way to measure body fat based on height and weight. Anything over 25 is considered overweight.)
But Asian adults were about equally as likely to have high blood pressure as white adults, and the rate of high cholesterol among Asian-Americans was about the same as it was among white, black or Hispanic adults in the U.S.
That's because BMI doesn't tell the whole story. "At a given BMI," the authors write, "Asian adults may have more body fat than white adults."
It's the first time Asian-Americans have been included in this national data looking at the hypertension, high cholesterol and high body mass index of U.S. adults. People of Asian descent now make up 5 percent of the nation's population, a demographic that grew by more than 40 percent from 2000 and 2010. Before now, there were too few Asian-Americans to include in the National Health and Nutrition Examination Survey, a research program from the Centers for Disease Control and Prevention, to get meaningful data.
Posted on nbcnews.com:
Report: Thinner doesn't mean healthy for Asian-Americans – NBC …

A brief course of brain exercises helped older adults hold on to improvements in reasoning skills and processing speed for 10 years after the course ended, according to results from the largest study ever done on cognitive training.
Older adults who underwent a brief course of brain exercises saw improvements in reasoning skills and processing speed that could be detected as long as 10 years after the course ended, according to results from the largest study ever on cognitive training.
The findings, published on Monday in the Journal of the American Geriatrics Society, offer welcome news in the search for ways to keep the mind sharp as 76 million baby boomers in the United States advance into old age.
The federally sponsored trial of almost 3,000 older adults, called the Advanced Cognitive Training for Independent and Vital Elderly study, or ACTIVE, looked at how three brain training programs — focusing on processing speed, memory and reasoning ability — affected cognitively normal adults as they aged.
People in the study had an average age of 74 when they started the training, which involved 10 to 12 sessions lasting 60 to 75 minutes each. After five years, researchers found, those with the training performed better than their untrained counterparts in all three measures.
Although gains in memory seen at the study's five-year mark appeared to drop off over the next five years, gains in reasoning ability and processing speed persisted 10 years after the training.
"What we found was pretty astounding. Ten years after the training, there was evidence the effects were durable for the reasoning and the speed training," said George Rebok, an expert on aging and a professor at Johns Hopkins University in Baltimore, who led the study.
Participants in all three training groups also reported that they had an easier time with daily activities such as managing their medications, cooking meals or handling their finances than did participants who did not get the training. But standard tests of these activities showed no differences between the groups.
"The speed-of-processing results are very encouraging," said study co-author Jonathan King, program director for cognitive aging in the Division of Behavioral and Social Research at the National Institute on Aging (NIA), part of the National Institutes of Health, which helped fund the research.
King said the self-reported improvements in daily function were interesting, but added, "We do not yet know whether they would truly allow older people to live independently longer."
However, researchers said even a small gain would be likely to ease the burden on caregivers and health care providers.
"If we delay the onset of difficulties in daily activities even by a small amount, that can have major public health implications in terms of helping to curb healthcare costs, delaying entry into institutions and hospitals," Rebok said.
Prevent slips
The training course was designed to bolster specific cognitive abilities that begin to slip as people age. It does not aim to prevent dementia caused by underlying disease such as Alzheimer's.

At the start of the study, all 2,832 participants were cognitively normal. The study included four groups: three training groups plus a control group of volunteers who came in for regular testing to see how they were faring with age.
People were trained in small groups over a period of several weeks and then were tested immediately after the training and again one, two, three, five and 10 years later.
About 60 percent of the volunteers who underwent training also got booster training sessions, which enhanced the initial benefits.
At the end of the trial, all groups showed declines compared with their initial baseline tests in memory, reasoning and processing speed, but those who got training in reasoning and processing speed experienced less decline.
Among those given training in reasoning strategies, 73.6 percent were still performing above their pre-trial baseline level, compared with 61.7 percent of those who received no training and were only benefiting from practice on the test.
The effect was even greater in processing speed. Among the training group, 70.7 percent of participants were performing at or above their baseline level, compared with 48.8 percent of those in the control group. There was no difference in memory performance between the memory group and the control group after 10 years.
Compensate for decline
Two of the three training programs — the memory and the reasoning strategies — were done with paper and pencil, while the processing speed training was done on a computer.
The programs, developed by the researchers, were focused largely on teaching strategies to improve cognitive performance. For example, the memory training taught people how to remember word lists, sequences and main ideas, while the reasoning training focused on things like recognizing number patterns.
In the processing speed training, people were asked to focus on the main object in a computer screen while also trying to quickly recognize and identify objects on the periphery of the screen. Such training can help older drivers with things like recognizing road signs while driving.
A version of the speed training program developed for this trial is now commercially available through the brain fitness company Posit Science, but the researchers are working on making other types of training available as well.
Rebok's team just got a grant from the National Institute on Aging to make a computerized version of the memory test, with the hope that repeated training can improve the results.
The study was not designed to explain why cognitive training can have such a lasting effect. Rebok said it may be that people take the strategies they learn and practice them over time. As they age, trained individuals can rely on these strategies to compensate for their declines.
Whether this training actually strengthened the brain in the way that exercising builds muscle is not clear, but the government intends to study this, too. Last week, NIA put out a request for proposals that would study whether cognitive training causes physical changes in the brain.
More here:
Brain training can help older adults stay sharp for years – NBC News …
As I reflect on 2013, with my kids shrieking joyfully in the background, I am reminded that massive change starts out slow. Back when I had my daughters in 2005 and 2007, we were just beginning to learn about BPA, flame retardants, phthalates and other toxins. We knew about lead, but not all the places it lurked. Resources were few. Worried moms asked each other questions, looking for solid intelligent information that didn't make them feel irrational or hyper-concerned.
A movement was born. Led by parents, nonprofit organizations, scientists and children's health advocates. It took years and years to build up awareness and momentum — with several victories along the way — coinciding with the rise of social media — and the amplification from the voices of regular people.
This year, toxics took center stage. Issues were brought forward by the media, and industry responded. Congress wrangled with attempts at meaningful toxics reform legislation.
Here are my picks for the top 8 environmental and toxic health stories of 2013:
1. Walmart announces it will phase out the sale of known harmful chemicals in cosmetics, children's products and household cleaners. This is a major victory for the millions of shoppers who buy products at this mega shopping chain. We are eager to see which 10 chemicals are on this list (these haven't been made public yet). This list is certain to make more waves, and will hopefully, propel other retailers to act.
Importantly, Walmart's own brand cleaners will no longer contain toxic chemicals outlined by the EPA's Design for the Environment program. This is a serious commitment to making their cleaning products healthier for consumers.
The media covered this story and indicated that consumer and environmental health groups pressured Walmart to take this first step to protect consumers from toxic chemicals. This effort was led by our friends at Safer Chemicals, Healthy Families and The Campaign for Safe Cosmetics. The Mind the Store Campaignled the challenge. News resources such as USA Today, The Huffington Post are reporting that Walmart is making these changes because of pressure from consumer and environmental health advocates (read: all of us!).
2. Procter and Gamble to remove toxic chemicals (triclosan and phthalates) from all products. This is a huge win for public health! Procter and Gamble brands include Cover Girl, Tide, Crest and Ivory. The chemicals will be removed from all cosmetics, household cleaners and fragranced products. This was led by our partners,Women's Voices for the Earth. And the chemicals will be removed as of right now!
Phthalates are commonly found in personal care products, perfumes, children's lunch boxes and backpacks, as well as building materials and they have been linked to birth defects, asthma, neurodevelopmental problems in newborns, fertility issues and obesity.Triclosan is a chemical commonly added to products like toothpaste, antibacterial soaps, cleaning supplies, cosmetics, cutting boards and school supplies. It is known to cause hormone disruption.
3. On the heels of the Walmart decision, Target announced its own new sustainability standardswhich will include a rating system for all products; analyzing sustainability, ingredient disclosure, and known harmful chemicals. According to Greenbiz.com,
"Target's Sustainable Product Standard establishes a product scoring system for household cleaning, personal care, beauty and baby care products (with cosmetics to be added in 2014). These product categories will be scored on five attributes: ingredients (50 points), transparency (20 points), animal testing (5 points), packaging (20 points) and water quality (5 points). The scoring system does not set requirements for suppliers. Instead, Target, in its words, will "learn with our vendors how to improve our entire selection of products."
4. Congress considers toxic chemical reform of the ancient TSCA law. Our current law grandfathers over 80,000 chemicals in commerce that have never been tested for safety. Even asbestos has not beenbanned! Congress held a series of hearings on this subject, and parents, scientists, and health advocates spoke passionately about the harmful effects toxic chemicals are having on families. This is an issue that is NOT going away — even as the bill is stuck in Congress. This is the farthest we've come — and we will continue the pressure until chemicals and products are proven safe before they are sold, and vulnerable populations are protected.
5. President Obama announced a new plan to combat climate change. President Obama was the first American president to frame climate change in terms of public health — especially children's health. He said:
"Today, about 40 percent of America's carbon pollution comes from our power plants. But here's the thing: Right now, there are no federal limits to the amount of carbon pollution that those plants can pump into our air. None. Zero. We limit the amount of toxic chemicals like mercury and sulfur and arsenic in our air or our water, but power plants can still dump unlimited amounts of carbon pollution into the air for free. That's not right, that's not safe, and it needs to stop."
In fact, public health is a primary goal of President Obama's climate change plan. Climate change causes increased rates of asthma, higher rates of flooding — damaging water quality, and excessive heat waves –driving up food prices. Cutting carbon pollution will help keep our air and water clean and protect our kids.
6. EPA takes a leadership role on health and listens to families. The EPA has been moving forward with several rules to protect health despite pressure from many industries, including the polluting coal industry. Moms Clean Air Force has a Twitter chat with EPA administrator Gina McCarthy tomorrow, January 8th, from 2-3pm. EPA is showing us that it is listening to moms and is taking action to protect health in the face of coal industry lobbyists.
7. New Nutrition Standards for school snacks. As part of a movement started in 2012, led by first lady Michelle Obama, school lunches and food are getting healthier. With 1 in 3 people in the United States considered obese, these standards couldn't come soon enough. Soda, candy, and chips are no longer an every day item in schools. Schools have new rules for lunches, too — to offer more fresh fruits and vegetables and whole foods. While not perfect, these rules are a step in the right direction to help children make healthier choices.
8. Safe Cosmetics And Personal Care Products Act introduced in Congress. This bill is designed to give the U.S. Food and Drug Administration authority to ensure that personal care products are free of harmful ingredients and that all ingredients are fully disclosed. Currently, the FDA has no power to recall products with harmful chemicals or demand safety assessments. This act will phase out the use of chemicals linked to cancer, birth defects and developmental harm, require full ingredient disclosure, create a healthy standard for vulnerable populations (pregnant women and children), and protections for cosmetics workers. To learn more and take action in supporting this bill, visit our friends, Campaign for Safe Cosmetics.
2014 is our year! It is time for full reform of our toxic chemical laws. We also need quick decisions based on independent studies about known harmful chemicals in products. If last year is any indication, change is coming. Industry is responding. Now it is up to our government.
Read the original post:
Top 8 Toxic Health Stories Of 2013 | Care2 Healthy Living
We love it when a leak and a rumor come together. LG's Lifeband Touch (as claimed by @evleaks), pictured above, is most likely the wearable that was hinted at just last week. The fitness band is likely an evolution of that which we saw back at CES, and at a guess, we might see again in the next week or so (unless we're made to wait until MWC). The name — and image — suggest a touchscreen component making this a swipe-friendly FuelBand competitor. Whether it'll be an LG G2 companion (as rumored) or a standalone device is yet to be known (we're hoping maybe a bit of both). Unless LG has had a change of heart, it's also likely to include an altimeter, some mobile notification features and play nice with the firm's Smart TV fitness/dance apps. What certainly is clear, however, is that there's going to be even more competition for your wrist in 2014.
Original Post:
LG Lifeband Touch leak suggests fitness wearable could be imminent